Exercise Midnight Sun - Greenland 2008
Not the Wet Watch Anymore - BlueWatch
Tuesday 5th August 2008
After an enjoyable morning sail with a light breeze and regular sightings of dolphins alongside the yacht, blue watch moved onto mothering duties. Due to the light winds, the mother watch was uneventful – not having to stem the galley every 2 minutes. Trying our best to top Windy's cooking efforts we attempted our own five star menu with a lamb curry and apple crumble and custard desert. We're not sure we managed it but the meal went down well nonetheless. The curry came with the usual condiments, chopped onions, chilli, peppers, and Na'an breads. The Banana Chutney donated to the ship by Peters' wife Sheila has become a firm favourite with Richard. He has asked for the recipe to be sent, but Peter thinks it is just a ruse to get Sheila's email. (Editor's note: whilst skipper finds the chutney delightful and Sheila lovely, he would be happy with the chutney recipe!)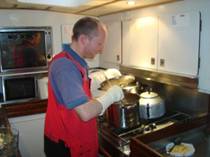 In the afternoon, Blue team presented a surprise afternoon morale-boosting snack to the rest of the crew. Peter had smuggled some popcorn on board and made some the old-fashioned way – in a pot. The most common comment was "don't you need a microwave for popcorn?" Pah!
With the light winds we all took the opportunity to do those extra little duties, such as washing our smalls. Peter went into grunting man mode and got stuck in checking over the engine and dipping the fuel tanks.
The winds have been so light that the White team got the Spinnaker out this morning. What a beautiful sight. The Red team then took over, and used the Spinnaker to good effect that the boat actually ended up further away from Greenland than when they took over.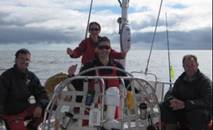 Greg (seated on the right in the Red team picture) is showing that he is very much the typical University Student. Whilst reading out a recipe, he came out with the classic "….and then preheat the oven…..whatever that means."
Allan has had a relatively better last couple of days with the weather having moderated considerably since the tanking (Scottish word for beating :) we took with the weather on our later watches before going on mother shift. Taking at times 40 knot winds over the bow and steering on a bearing in the pitch dark, howling wind and heavy rain made white water rafting in Slovenia seem like a trip round the local pond. Those of you who were with me in Slovenia will know what I mean! At time of writing the day has been somewhat uneventful and the current watch are taking down the spinnaker due to lack of wind. I am due back on watch at 2000 hrs for four hours then another 4 hours at 0400 hrs. It really is something to see the sun going down and coming up at 5 am over the horizon in the middle of the Atlantic and am hoping to get some good pictures of it over the next day or two. This has been a fantastic trip so far and well worth the effort to go on the training weekends to get here. Being the least experienced of the crew has been a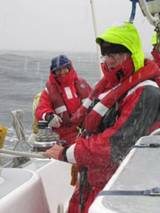 massive learning curve with no room to have a second go at something in heavy weather. However the Skipper has taken a special interest in ensuring I learn all the skills of life at sea before I return!
We are now over the half way point and 450 nautical miles from Cape Farewell off Greenland. It is hard to believe how quick the time is flying by. The weather should be getting colder over the next few days as well and we should soon be seeing ice and maybe hitting fog. After that we will be following the Greenland coastline up to Kangaamiut which will take another few days and is another 600 nautical miles. Hope that the guys are enjoying getting ready for Cyprus.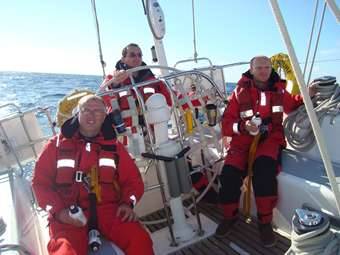 Catch up with you on next blog (Allan).
Thanks for the email from Terry. He requested some more technical details, so here they are:
Position: North Atlantic (57deg04.84N 30deg11.52W (1800Z-1 5Aug))
Direction: Greenland (WNW following great circle route Bishops Rock to Cape Farewell)
Weather: Yep, lots of it.(Wind generally ENE, av speed F2,/3 vis good, sea state calm (1))
Sail Set: Big white one at the back and huge coloured one at the front (No1Y, symmetric spinnaker)
Inside boat: Dry (oil topped up today, 350ltrs of fuel used / 1150ltrs remaining – not enough to get to final destination if no wind!) Food: going down well, although on-track for ration plan. 8days fresh, remained on dry. Have some cash to purchase fresh provisions in Greenland. Water maker: daily making 200ltrs a day, at 1.6ltr/min – although this doesn't equate to anymore showers! :)
Outside boat: Wet (weather generally favourable, tracking the dropping sea temp at the moment – 12.6degC, misty / thundery spells, stratus grey days cold, but overall been good for our sail plan todate)
That's all ... data above provided by Red Watch
(Blue Watch update from Anne – will keep you updated with lots of hot information on Transglobe trip if I get organised :)
Blue Watch update complete for now: regards, Anne, Pete, Allan,Neil
---
Balance, Dance & Tuition
05 August 2008 19:28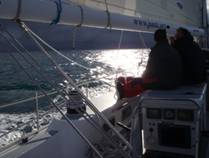 (Left) Windy and Andy trading stories as the sun goes down. Fortunately the weather in the background stayed there.
During our watch since the last blog (1600 to 2000) we reached the 1000 nautical mile mark, the previous watch missed it by just one mile. During the first couple of hours there was much joviality and some questionable dancing. Below, we were treated to the ultra slick dance moves from Ram while Peter acted out his whipping fantasies.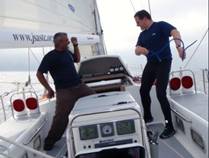 Fortunately, the dancing didn't last too long and Windy introduced us to a far more entertaining game. This is a true balance test. The idea is to look at the inverted horizon between your legs for as long as possible. Doing this on flat ground is no doubt sufficiently challenging for certain individuals; throw in the rocking effect from the waves and this is certainly a test of ones balancing prowess. Below, Andy giving it a try, then it all heats up and Windy strips down to handle the eager flow of victims; the photo is of Linda giving it a go.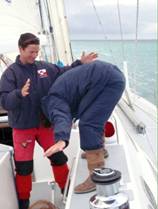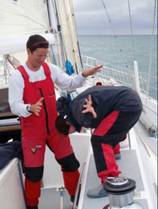 Things then quieted down for the remainder of the watch and Windy tutored our watch on a variety of topics required for our competent crew and beyond. We are really privileged to be sailing with him as he has so much knowledge and experience and we are learning both the theory and getting practical advice from his vast sailing background. Some of the solutions to safety threatening problems are quite ingenious but Windy has a great way of providing the right prompts to allow us to work out the solutions for ourselves. For example, when dealing with a hole in the side of yacht that can't be reached from the inside or by a crew member in the water (perhaps the water is too rough), what options are available? One of the potential solutions we came up with was to use the sail as a type of bandage. While this doesn't solve the problem it does stem the flow of water and would (hopefully) provide time to take further steps. During this lesson Greg showed that he has a good brain for coming up with some lateral solutions.
Dinner was provided by Blue watch – it was lamb curry. Very tasty. The meals have been excellent thus far. We were all expecting to lose some weight as a result of all the exercise but despite the hard work and play, this hasn't been the case (at least it doesn't seem to be).
[On this and that…]
…Whilst Byrne has been doing a sterling job at keeping you all updated of the ups and downs of life at sea (pardon the terrible pun), someone (I forget who) recently suggested that we all write a little piece for the blog. Here, therefore, for your edification (or boredom) is my own modest offering.
At present we are sailing along under a Spinnaker (left). For those of you not au fait with nautical terminology (it's all new to me!), this is a vast expanse of sail that flies off the front of the boat, rather like a kite. Very impressive it looks too! It is held by ropes from all three corners, so getting it down without dropping it in the sea will be interesting – Andy assures me that it can be done!
In the meantime, life aboard progresses along its merry course. It may sound like a cliché, but it is in times like these that one really appreciates the little pleasures in life.
Yesterday, for example, Peter treated us to some of his secret stash of Popcorn –greatly appreciated. Pity there was no film to accompany it, but after all, we are quite capable providing or own entertainment as you will have doubtless gathered.
I myself have been contentedly puffing away on a newly acquired supply of tobacco. It used to belong to Windy, but he has given up ("Three cheers that man!"), and he gave what tobacco he had left to me (an eminently wise move, if I may say so!) The third smoker on this trip, Alan on Blue watch, has also given up, leaving me the only remaining social leper aboard! Well, it passes the time on deck at 3am, weather permitting…
Perhaps some of you are wondering what we get up to day to day, aside from eating popcorn, looking at the horizon upside-down and flying bras from the rigging (I ask you!!). Fear not - there are plans afoot for a blog edition from Red Watch covering the topic of "routine aboard", with such riveting scenes as "pumping the bilge" and "climbing in and out of bed when the boat is on the opposite tack from your cabin". Watch this space!
Well, Red Watch are about to become "mother" for the next 24 hours, and I now realise that my "little piece" has become rather long. It is time for me to join my hardy companions on deck, heroic seafaring deeds to perform! Adieu.
-- Greg.
Today I seem to have picked up Greg's need for excessive amounts of sleep. I think this stems from Andy, our watch leader not waking me for yesterday's 0800 - 1200 watch, coupled with the extra time we spent on the previous watch helping Blue Watch with sail folding. During the 1200 to 1400 Dog Watch, we had our second time change which further confused our body clocks. I suspect however that the not being wakened was a deliberate ploy to allow the chaps to get their oilies on quicker than me, on account of the fact that with my size 3 feet, I have the advantage of being able to pull them on over my boots.
The Midnight to 0400 watch is always a difficult one to get through, and getting down to some serious conversation helped to pass the time. Contentious subjects included Creation vs Evolution and Scottish self government. Needless to say, wildly different opinions led to some very lively debate, and the more my fellow watch members views differed from mine, the more fun it was to play devil's advocate.
Anyway, as previously advertised I have been dubbed the Helm Hogger, and I need to get back to my post. I'm keeping my input brief due to the Blog Hogging of my colleagues, busting the myth that it's women who can never stop talking.
Meantime, thanks to everyone out there for the e-mails and keep them coming.
-- Linda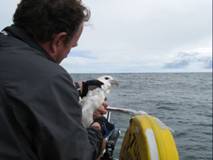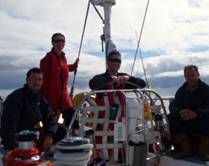 Since typing up some of this earlier blog we have switched to mother watch. A few minutes in to our watch and there was a minor drama on deck. A Storm Kestrel was accidentally snared on the fishing line. Windy and the team on deck reacted quickly and the Kestrel is alive and well. Below, Andy helping untangle the Kestrel and Windy setting it free.
Yours, Red Watch - Andy (right), Byrne (helm), Greg (left) and Linda (standing)
---
SKIPPER'S UPDATE
05 August 2008 03:39
Hello Followers!
It is really heartening to know that so many of you are following our progress. The crew love the idea that they are not out here alone in this vast grey wilderness! Somehow the balance between remote living in small teams on this yacht and the occasional few lines by email set the right balance.
I have been asked for some more technical data on our progress. I have asked the watch leaders to include this in their blogs in future. Today we have had little sunshine breaking through the layer of grey stratos cloud. A rather mellow morning was spent up top with Anne's Watch and an afternoon doing stuff - including making bread! Successfully but a little dense, like damper really. I will have to try again tomorrow. At present it is dark, chilly and nearly wind-less. The 2 to 12 knots of breeze arrives from the East to North East and drops away again, all due to the high pressure that has enveloped Adventure over the last 24 hours. I need to keep the boat speed at around 7 knots to meet my deadlines but then I only have about 1000 miles of fuel, some of which has already been expended during the 1050 miles we have travelled so far. And I need most of that for the potential fog and ice hazards close in to Greenland and the west coast if it turns light in the high pressure around Greenland.
Whilst I have been concerning myself with reading the Arctic Pilot books etc, Windy has been teaching the Competent Crew Syllabus and more to our eager crew. They have covered much of it already during their training since January but it never hurts to revise things and then discuss how they apply to ocean sailing rather than pottering about in the Solent. We have both been guiding the crew and fixing bits and pieces that always go wrong at sea - mainly domestic stuff. For example, the heads (loo) door came off its hinges, a small chaff appeared on the mainsail, a piece of web strap that stops the main sheet twisting came apart and needed replacing. That sort of thing. And Windy is great at making running improvements too. His 90,000+ sea miles give him a great experience base on which to draw. We all learn from him daily. And yet he is so self-deprecating, talking of the brilliance of other skippers like Becky rather than himself. Never happier than when he is busy, he is also trying hard to quit smoking on this trip and so far so good.
Picture shows Rachel, Dave and Windy during a stormy afternoon just before it all kicked off.
You will know that the crew do 4 hours on 4 hours off for their 24 hour day - 0000 to 0400; 0400 to 0800; 0800 to 1200; 1200 to 1400; 1400 to 1600; 1600 to 2000; 2000 to 0000. The dog watches mean they swap about so do not do the same watch on successive days. One day in 3 they perform Mother Watch for a 24 hour period, Windy and I split the night watches 6 and 6. I do 2000 hrs to 0200 hrs and Windy does 0200 hrs to 0800 hrs. He is happy with that as he gets some peace to make and mend various bits and pieces. I like that arrangement as I like sunsets not sunrises! Windy then sleeps for a few hours in the morning and we both grab a "Pensioners" some time during the afternoon to recharge our batteries ready for the night watches. All our stuff is fitted around that routine.
Anyway, it is 0125 local time and I need to download the latest weather charts and get ready to brief Windy who comes on watch at 0200 hrs, so will say goodbye for now.
Keep following these intrepid explorers of yours - be proud of them; they are all doing well and all learning some really valuable lessons.
Richard
---
Postion as at 5 Aug 08 17.22hrs (57°02'31"N 29°54'52"W)
Speed - 11km/h
Course - 289°