Exercise Midnight Sun - Greenland 2008
Thurs 7th Aug 08
Holiday Accommodation To Let
67 ft accommodation located in the highly desirable upmarket area of the North Atlantic. Hard wood panelled throughout. Floors comprise teak flooring leading to cellars with purpose fitted Perkins engine. Sleeps 14 in 6 rooms - 2 annexes and 4 triple bedrooms. Accommodation comprises entrance way, kitchen, living/dining room, 2 bathrooms, office with modern communications, drying room, terrace with 360 degree panoramic views. Integral low environment impact transportation system, including spares. Own water and electricity supply. Amenities: Integral transport for local sightseeing (includes 8 horsepower motor), exceptionally large solar heated swimming pool that is self maintained as well as a large dog house.
Kitchen
Modern cooking appliances, including 4 ring gas hob, integral oven, large deep freezer, fridge, ample work surfaces and double sink. Crockery and cutlery all supplied. Open plan to living/dining area.
Living/Dining
Table seats 14. Doubles as emergency surgery and operating table. Defib kit supplied. Fully stocked library containing primarily nautical and maritime books. Flexible entertainment system wired for sound to both the terrace and living/dining area. Access to two single annexes.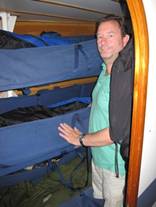 Triple Bedrooms
Two rooms comprise a three bunk bed system with the others comprising a double bunk and a single bed with additional storage facilities. All beds include built-in safety features such as high padded sides with tensioning devices, useful in inclement conditions. Wardrobes and integral under bed storage. Each room contains a skylight.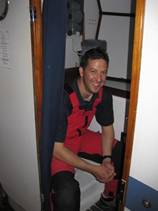 Bathrooms
Each bathroom includes a wash basin and shower with under sink storage for everything the modern transatlantic home executive may require. Wall mounted mirror. Manually operated WC that is environmentally friendly as it uses locally sourced water. Shower tray provides manual water drainage facility.
General
For modest rent. Available from 18 August to 5 September. Would suit long distance commuter with 11 suitably minded friends. Run by pair of caretakers who seem occasionally eccentric but are fully professional and competent in their duties.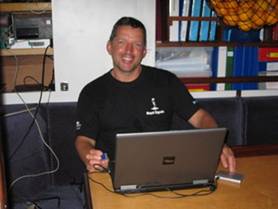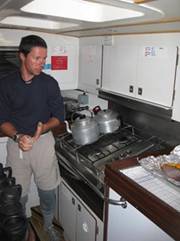 Other
Local attractions and activities include, wildlife spotting, fishing, climbing, photography, family sports days, winching, knot tying, canvas hoisting, water pumping and the occasional gossip.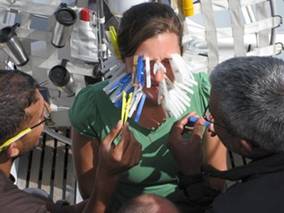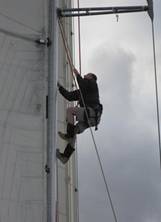 Interested parties, contact Red Watch by email (adventure at mailasail dot com).
---
Skippers Update
We dropped the spinnaker around 1800 hrs and after a night of motor sailing last evening I stopped the engine at 1100 hrs today and we have been sailing under No 1 Yankee, staysail and full main sail since then. The engine checks were performed by Mother Watch, the bilges were pumped dry, routine maintenance completed and domestic chores finished off - and we made some great bread! After hours of using the engine the quietness can seem deafening! But how sweet it is to my ears. And to have the space and flat seas at this latitude to hone our sail trimming is a real treat.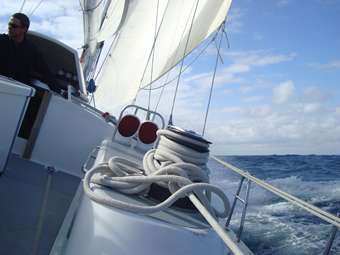 We are ghosting along at 5 to 6 knots on a broad reach in 12 knots of True wind from the SE on flat seas with no tide to be concerned with. We are waiting patiently for the breeze to back and fill in from the NE and then strengthen as the depression moves up from the lower latitudes to hopefully pass to the south of us and provide a reaching wind to see us past Cape Farewell.
Position: 57,42.49N; 034,38.55W
Speed: 5 knots, Course: 307 deg.
Weather: overcast and dry (mostly) but chilly.
Wind: SE F3.
Magnetic Variation 20 deg West.
---
Crew Profiles
WHITE WATCH - DAVE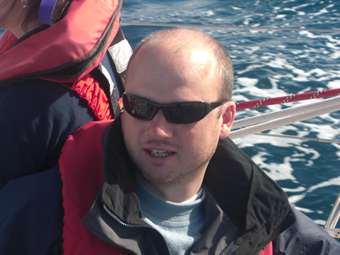 For the benefit of one reader - let's take a straw pole on whether Dave has a cute smile! He does have a cheeky smile (and I have taken advice on that one Emma)!
Dave is a quiet efficient type with endearing qualities that make him easy to get on with and good fun to sail with. A good team player, he learns fast and contributes without question to the effective running of his watch and the whole yacht. I reckon we might see him in the Corps sailing scene one day ... I hope so.
Richard
---
Linda
Our Lady from Elgin. So much to say but so nervous that I might feel the back of her hand if I speak my mind!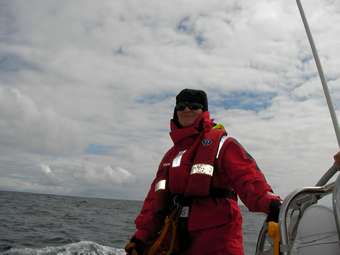 Seriously, this little lady packs a real punch. Energetic, strong and purposeful; she helms like a demon; we have to prise her fingers off the wheel. With a strong sense of adventure she is taking her watch's student in hand and squeezing him to get the best from someone who is spending more hours awake than he ever thought possible!
And without sounding sexist, her natural cleanliness and efficiency on the domestic front is probably keeping the bugs at bay and keeping us all healthy. She can come sailing with me any time.
Richard.
PS - she is not dour and neither is Anne! Or at least that is what I have been told by them both! (I'm off to hide now).
---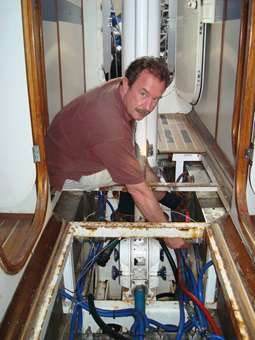 ANDY - WATCHLEADER RED WATCH
I have known Andy for 13 years since we served on operations together. He is a charming man with a honed sense of humour and a "typical"(?) military hunting/shooting/fishing persona. Strong on the delegation stakes and keen to bring the best from his people, they warm to his approach and put up with his nuances. There is nothing he will ask others to do that he won't lead them in, especially making the brews or baking the bread. Fairly recently qualified as a Yachtmaster, this is his first ocean crossing and I think he is enjoying it. A natural organiser, he is in his element; and instructing and guiding the less knowledgeable motivates him. He has brought the best from his student crew-member; probably having the experience of his own children has helped tremendously - patience required!
The signature moustache is growing back (albeit a little more grey than the one shaved off for a bet)!
Richard
---
Postion as at 7 Aug 08 17.56hrs (58°03'46"N 38°06'49"W)
Speed - 15km/h
Course - 272°