Exercise Midnight Sun - Greenland 2008
Friday 8th Aug 08
DAY 10 - ALL AT SEA
Another two days gone and its time for another blog from White Watch. Unlike the other watches we are blogging every two days. So what has happened in the last 48hrs or so……
Well we did our 24hrs on mother watch relatively uneventful since we were still in the high pressure system so sailing along flat and slow a good chance to catch up on some washing and sleep. To keep the trend with previous blogs you will want to know what we cooked for evening meal we did a lamb curry which went down very well with our very own special potato salad to go with it.
During our Mother watch since it was so quiet on deck Windy and the Skipper set about
or own version of the Olympics, including five challenges. These being General Knowledge (about the yacht) questions including, how much fuel do we hold, what is our call sign and how tall is the mast among others. A Strength challenge seeing how long you can hold two dead weights, an Agility/Speed challenge to see how fast you can move around the boat whilst carrying water, a Pain threshold challenge seeing how many cloths pegs you can put on each watches faces and finally a Knot challenge, (no we are not into bondage, knots is an essential part of sailing) to see home many knots from the Comp Crew Syllabus we can use. Needless to say White watch came away with gold leaving the other two watches in our wake. We just need now to find out what our prize is, this is being kept very secret for now.
Since finishing Mother Watch we have been back sailing the yacht and are around 24 hrs into our 48 hrs of 4hrs on 4hrs off. The weather has changed and we were on a dead run followed by now being on a broad reach with 25 knots of wind coming over our Starboard Quarter with a ENE wind as such we are getting some good speed in the correct direction, with White Watch throwing the gauntlet down to the other watches for the most distance covered over our 4hr watch getting 41 miles. We have also been competitive in who can get the most speed in own watch I (Dave) set the early lead by getting 14.2 knots out of the boat then they wouldn't let me back on the helm saying they need to catch me up. Since then I've been left trailing with Rachel leading getting 16.1 knots, Khush 15.0 knots and Ram getting 14.6 knots, rest assured I will make sure they let me have a go this afternoon and take the lead again. The other watches are frantically trying to keep up!!
We have kept up our wildlife spotting seeing several large pods of whales and have seen today puffins which must be a local bird from Greenland. A further point to note is the sea temperature has dropped some 5 degrees in the last 24 hrs to 9 degrees; we are all interested to see our first sight of icebergs
During our last watch we hit our latest way point Cape Farewell 75 miles off the southern point of Greenland (so far off to miss the ice coming around the East coast) so we have now crossed the Atlantic and have completed 1615 n/miles through the water a bit more over the ground. We have another 90 miles to go to our next way point and then we start tracking up the West Coast of Greenland, we have 500 miles left in total to go so around another 4/5 days wind and ice permitting.
That's it for now I'm being called to go back on watch and looking forward to another drenching!! and a chance to take the lead in the fastest helmsman on the yacht.
By the time of our next blog we should have spotted land and be going up the Greenland coast and nearly there!! (Editor's note: might take a bit longer methinks) I think we are all wishing this could go on for another few weeks (not really Emma honest).
Regards
Dave on behalf of White watch (Rachel, Dave, Ram and Khush).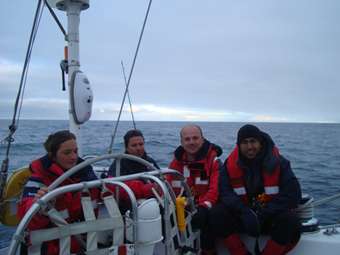 From left to right Rachel, Windy (Mate), Dave and Khush. Ram is missing as he is behind the camera. That will be rectified for the next blog.
PS – Our resident lonely heart has had a couple of e-mails however any young ladies with GOSH and happy for a long distance relationship please e-mail him.
PPS – Chris, Rachel is feeling neglected and lights up with hope every time there is mention of an e-mail for White watch so please e-mail her again!!
---
Whales and Sails
First of all a look back to yesterdays inter-watch "It's A Knockout" competition, which you may have read about in some of the other watch blogs. Congratulations to White watch
for coming out as overall winners by beating us by a mere one point, but we still want to give ourselves a pat on the back for some of our individual achievements. The competition kicked off with a quiz about our Challenge 67 yacht, Adventure, however due to a great deal of indecisiveness about the answers, the less said about our result in this event, the better. Things then picked up when Andy did exceptionally well by laying down the gauntlet in the strength competition, which consisted of holding up two full 3 litre juice bottles with extended arms. He achieved a very cheeky time of 1 minute 38 seconds. Next up were the ladies and Linda did a time of 1 minute 14 seconds thus earning the accolade of strongest chick on board (above).
The next event was "Pegged Out", as advertised in the "Family sports days" photo in yesterdays blog. The aim of the event was to attach as many clothes pegs as possible to the face of each team member. At any time the contestant can cry out the phrase "Pegged Out", in order to indicate that they can't take any more pegs. The constraints of the event are, how much pain can the individual endure, and how quickly can you attach and detach the pegs from each person, in order to achieve the maximum number of pegs in the minimum time. Greg did us proud by taking 60 pegs, and our overall score scooped first place in this event. Below is Andy getting "Pegged Out".
Due to the need for the off watch to get some sleep the last two events were combined into a relay race/knot tying event. Phase one of the event involved a race around the deck, while clipped on, and carrying a ladel full of sea water. Phase two involved tying the second relay team member to the guard and mesh around the helm, using as many knots as possible from the Competent Crew syllabus. Byrne and Linda went for Red Watch, and Byrne went above and beyond by transporting the sea water in his mouth. Consequently we were the only team to deliver more than a couple of drops of liquid to the jug at the end of the relay phase. On the knot tying phase we managed to produce all six different knots and 14 knots in total. Unfortunately we were pipped by White watch with a total of 17 knots, however it has to be said that many of these were simple stopper knots and there was no sign of the Sheet Bend.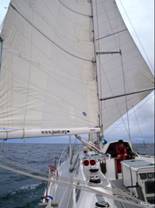 For the past few days our progress to our destination has slowed considerably. At the start of the journey the daily average was approximately 170 miles which lasted until Sunday 3 August. Thereafter our mileage has steadily dropped to 159 on Monday, 139 on Tuesday and 127 on Wednesday. At 0545 this morning we put up the Goose Winged rig (left) and started back on 7 to 8 miles per hour and were currently doing so on a Dead Run. This has given everyone a chance to practise helming while sailing downwind, a very different skill, and as ever our mate Windy was on hand to give expert tuition.
Shortly thereafter a whale was spotted to our front, and before we knew it we had whizzed past several of them on our starboard bow. The pod then followed in our wake for about 20 minutes, coming as close as 30 metres at times and giving some excellent photo opportunities.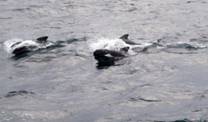 The watch was rounded off by Windy giving us a brief on the do's and don'ts of menu planning for ocean sailing.
Yours Red Watch (Andy, Byrne, Greg and Linda)
---
BLOG FOR KEV, LOUISE, EMMA & EMMA
Hey Guys,
A short blog to publicly thank you for emailing us your best wishes, the leg has been a great success so far. As I write we are 125 miles from Cape Farewell - the southern tip of Greenland and heading to keep clear of the ice bergs (hopefully) before turning north and heading 450 miles up the west coast and for our first destination - Maniitsoq. Not sure yet when we will arrive (well I am but don't want to alert all those reading this just in case we fail to make that day). Lots of variables to overcome yet including ice, fog, growlers and fast swimming Polar Bears (joke - honest).
Anyway keep the faith, we are all looking forward to seeing you in Greenland and passing on some hard won advice on downwind sailing (who would have thought we would do so much of that on leg 1. Perhaps we are saving the hard stuff for you guys ... )
See you soon,
Richard
Emma K hope Wednesday passed well; all the very best from us all. xx
---
Another fine day. for Blue Watch
The unexpectedly calm seas and light waves have given us the opportunity to experience again things that we had previously taken for granted. Such as for the lads being able to have a wee standing up (editor note: this practise must cease immediately - hurrumph!) and generally for the crew to be able to walk upright around the yacht and deck without having to constantly reach out and grab the nearest support. It also gave us the opportunity today to do an 'It's a knockout' competition. This consisted of the following events: a strongman hold event where we had to hold out horizontal 2 x 3 litre bottles of juice for as long as possible; a nautical quiz; a pain event where the object
was to clip as many clothes pegs to watch member's faces in as short a time as possible, and a final event which consisted of an assault course around the boat and knot challenge. Unfortunately in this instance Blue Watch had victory cruelly pulled from their grasps and had to settle for Bronze (OK, third out of three). To make up for this disappointment Blue Watch registered an exped first. Eagle-eyed Pete, as usual looking for jobs and possible faults on the yacht, noticed that the Starboard side pennant rope had disappeared (possibly as a result of Helm Wench's underwear hanging on this line earlier, which may have resulted in the lanyard being stolen!). Thus it was left to Neil as the lightest member of the watch to go up the mast and attach a new line, becoming the first crew member so far to do so this expedition. Having done so and surveying his handiwork his accomplishment was slightly dimmed when he noticed how little of the mast he had actually gone up. However he assured everyone that it looked much higher from up there. He can now boast with the best of them 'there I was in mid-Atlantic, up the mast, hanging on by my teeth…..'
For Terry, some boat stats as at 03:30am 07Aug 08 (GMT).
Visibility: 98
Sea State: 2
Pressure: 1018 steady
Course Planned: 320deg
Compass Course: 340deg
Wind direction: South East
Magnetic Variation: 22 degrees West
True Wind Speed: 13 knots
Distance run in last hour: 5knots
Sea Temp 12.6
Sail set: Main, No1 and staysail.
We are thinking of running a top 10 Most Useful Things On Board. We all agree that number 1 is blue roll. Used for mopping up spills (often by Peter), drying anything, napkins, cleaning, and the occasional surreptitious hankie. You cannot have too much on board (hopefully there will be enough remaining for the next leg!).
Wildlife today consisted of the usual Storm Kestrels, a flock of Sea Gulls attracted by the off-cuts as Windy de-boning the lamb, and two pods of Whales. The first pod was feeding by circling blowing bubbles to confuse their prey, but they disappeared quickly as we approached. There was another bird seen, but unidentified.
It seems strange dreams is infecting the crew. Peter reported dreaming that he was on deck, and as the boat rolled in reality, he dreamed that he was launched over the side. He was instantly awake desperately clutching for a handhold, but at least he did not scream like a girl.
At time of writing -0310 local we are trundling along under sail and managing around five knots. We have had a look at the chart and reckon that we are around 2 days give or take from the first marker point from Greenland. After that it is on for a little bit more before we hit North and track up the coast 450 miles to our destination. We are making good progress and are looking forward to getting some sights of the fjords. Fog and ice are going to be the main dangers the further north we head and may slow us down considerably but we will just need to wait and see how it goes. Highlights of today are as has been said previously the team challenge which he were cruelly robbed on. Alan managed to give a good account of himself on the strongman challenge and was beaten by around 20 seconds on it, so close but not close enough on that. Neil also ended up going up the mast to rerig the pennant line." It's a wee bit higher than it looks……" We will take your word for it Neil. We will stick to the winching on that task thank you very much. Richard has also gleefully informed Alan that he had a tape of him snoring his head off whilst sleeping earlier on today. He hasn't had any complaints from anyone yet though. They must be too polite to say!!! Further updates to follow…..Back blogging soon!!!!
Blue Watch – Anne, Peter, Neil, Allan
---
Postion as at 8 Aug 08 06.10hrs (58°19'85"N 41°30'03"W)
Speed - 20 km/h
Course - 277°