Exercise Midnight Sun - Greenland 2008
Monday 11th Aug 08
SKIPPER'S UPDATE
There is always lots to do. Latest problem is the electrics that turn 24 V DC into more useful 240 V AC for electrical appliances. One of the watches was a man down today with a bout of diarrhoea. I dosed him and sent him to bed but then had to cover his watch. Having kept him well away from the food preparation areas and other people I hope I have minimised the risk of cross infection (as far as one can on a yacht at sea).
Many more ice bergs today - I have lost count. Huge ones the size of houses on the surface (and much bigger below the surface) and tiny bits of bergs too, with some amazing shapes and colours. We spot them by eye, using a weapon night sight or by use of radar, all depending on the circumstances. If seated in the saloon quietly I can hear small blocks of bergs scrap and bump along the yacht like a chain being pulled along the deck. Eerie! The ice has certainly concentrated the crew's minds!
The cold Arctic air is the other matter of interest. It is really cold with the wind chill. The sea temperature is 3 degrees, the sea slushy on the surface in places. In fact the water maker struggles to suck water through the 5 micron filter as it is too thick. We are all wearing multiple layers of clothing and hats and gloves. We are in a high pressure area so we are not subject to frontal depressions at the moment with their associated wet weather. But the spray is icy and slushy and not at all pleasant when it hits you in the face whilst helming. The really good news is that we have not yet come across the feared dense fogs in ice berg territory! That is a relief.
Adventure is subject to a Maritime and Rescue Coordination Centre (MRCC) requirement to report our position every 6 hours until we reach our destination. These reports are sent over INMARSAT-C at 0000, 0600, 1200 and 1800 hrs GMT. Although making one more thing to remember, it is heartening to know that our progress is being tracked. In fact on 2 occasions I have received a message asking me to send an overdue position report. They must have crossed in the airwaves but it is nice to know we are being tracked.
We have 225 miles to go as the crow flies until we reach our refuel port - MANIITSOQ. But this remains a beat to windward so the distance through the water is much more. Oh and "port" is perhaps a grand title - the place has 2700 inhabitants I believe. But then when you consider the population of Greenland is a little over the size of a large town in UK this is a relatively large place I guess. The intention after that is to head north again for another day or 2 and end up in the Fjord where the mountaineers and kayakers are and where the Leg 2 crew are due to board the yacht. We will see!
Richard
---
Advice to Tenants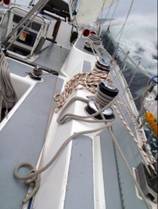 Sailing has still been exciting (above) although we have had several quieter periods of wind – typically we are sailing in Force 3 to 4 with a sea state of 2 to 3. It is pretty cold out on deck at the moment, with the wind chill it is probably between 3 and 6 degrees but it certainly feels colder than that. A four hour watch allows the cold to slowly seep in to one's bones. Our watch has implemented a rota system that allows one person to go below for 20 to 30 minutes to warm up after helming (below, Byrne is at the helm – Windy took the arty shot). This works well and it is great to get out of the icy wind.
As mentioned in the previous blog, we have started to see some icebergs. This makes the night watches a little trickier as we have to remain vigilant – watching for the obvious bergs as well as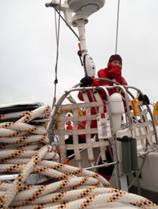 the semi-submerged growlers (these typically only have a small surface above sea-level but can still be large enough to cause damage). We are equipped with night vision aids and the ice lights up really well which makes the sentry's job a little easier. We are also making use of radar to aid in the spotting of bergs. Below are some pictures of members of the team with the obligatory iceberg in the background. First up Greg then Andy and Byrne. The third shot is an iceberg that was about a mile off our port beam. The fourth shot is of Byrne, Andy and Linda wrapped up warmly.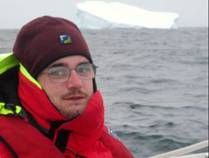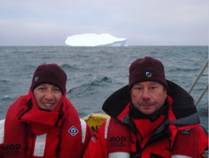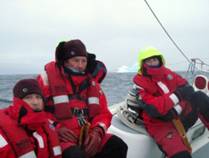 During our last watch (1200 to 1400) we shook out the two reefs that had been put in over night by the other watch. We are beating to windward and are approximately 280 miles from our destination. We have come to the realisation that we took a wrong turn somewhere and this certainly isn't Bermuda! Linda's bikini is tucked back in to her bag.
Below, Linda and Andy enjoying the sailing.
Regards Red Watch (Andy, Byrne, Greg and Linda)
---
CAPTION COMPETITION
Crew Suggestions
Windy's reaction to Icebergs
Two weeks without fags. Lookout Leg 2 crew.
"Have you stopped going around in circles yet?
'Clockwise around the $#@&ing winch'
The next deck game – Whack-a-Mole
Suggestions from our blogging fans please.
Look away now
Peter here.

For those who have been reading the blogs thinking that this trip is a mix of happy laughter and excitement, I thought I should relate a somewhat darker moment. For those with a more delicate constitution, read no further
I am sat alone with the laptop having been banished out of the galley because I am suffering a bout of diarrhoea. This came upon me suddenly whilst I was helming. I ran to the heads desperately trying to undo my life jacket and get through three layers of top and bottom clothing. I was just too slow, and had to spend the next hour cleaning up, showering and then disinfecting every surface of the loo - all this in 20 knots of wind, heeled over and crashing up and down on the waves. The skipper ordered me to bed, and after several hours rest I am now up and about, but banished from anywhere near food preparation or serving. Sailing is not all G&Ts on the sun terrace. My blue team members have been taking up the slack left by my absence, but sadly for me, seem to have been coping just fine with lots of tacking.
On a happier note, we are slowly beating our way up the west of Greenland against a northerly wind, keeping about 10-20 miles offshore. Plenty of icebergs to keep the lookouts busy. It is quite an ordeal battling into all the layers of clothing with three others in the cockpit area. Lots of 'excuse me', 'coming through' and 'if you move here, I can get my trousers on'. All are now wearing at least 3 layers.
Peter
---
Postion as at 11 Aug 08 0100hrs (61°53'38"N 50°34'05"W)
Speed - 11 km/h
Course - 31°