Exercise Midnight Sun - Greenland 2008
Wednesday 13th Aug 08
Greenland Coastline
As we have been beating up against the wind northwards, we have been treated to some superb views of the coast of Greenland. We are sailing under a constant grey blanket of cloud, but the land seems to have all the sunshine, so we are treated to a narrow pillar box sun-filled views. The odd 'berg in the way only adds the to the magic.
Of course being close to the shore has its more exciting moments. One occurred yesterday when the Skipper realised that we suddenly hit at current pushing us onto shore at 7 knots and had to tack really quickly. Should the cool calm professorial described in yesterday's blog really be shouting and swearing that much? [Although given the performance of the crew who had been "focusing on icebergs" (not much action required apart from looking) for the past few days their "rapid" response to the imminent danger was not quite the coiled spring approach the Skipper was looking for, hence some expression of his needs J, all in the nicest possible way – note from Anne (Watch Leader)].
As I write, we are about 50 miles to Maniitsoq, should be on our final tack for a straight run. The most common questions heard at the moment is 'How far to go'? and 'Which watch will be on when we get there?'. We do not know what is in store for us apart from a refuel, but we hope to be allowed a few hours ashore. Peter says that his greatest wish is to lie down flat on an unmoving surface.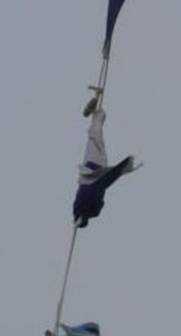 Last night we got up to do our 4 – 8 watch and commented on the number of times we were rolled side to side in our beds. We mentioned to the off coming White watch that they must have had a few goldfish moments * whilst steering and had gone round in circles. They were very defensive, and denied any 'off track' steering. However, if you look closely at the attached photo, the flag has been wrapped around several times. We conclude that it can only have happened by the boat going around the flag.
* Goldfish moment. Skipper definition: Goldfish only have a memory span of four minutes. Approx the same length of time a crew member can keep a simple instruction in their heads.
Everyone is really looking forward to getting to Kangaamiut and meeting up with the other guys from the expedition. The sight of the Greenland coast yesterday is very similar to Scotland. However the currents close in can be very treacherous and as previously described we had to tack very quickly. It looks like we may stop up in Maniitsoq and continue on our trip tomorrow, however it remains to be seen what happens after we refuel. Peter has spent the day going over reefs and tacking with Allan (hopefully for some swift 'coiled spring' response for our next tacking requirements), we are planned to be on the 12-4 watch tonight, although hope to be alongside by then and tucked in our bunks for a relaxing nights sleep. The weather has been quite overcast and it is very cold on watch so everyone has had to wrap up well as it is getting very cold at night. We are also hoping to see some of the Arctic sun if the cloud breaks and some more icebergs. Only a couple more days to go. The trip has gone very quickly!
Blue Watch at Dinner!!!!!
We are slowly bearing down on Maniitsoq and looking forward to a short refueling break. Its been very cold at times transiting up the West Greenland coast which seems to have led all of us to become a little more tired. Its certainly harder to get out of our warm sleeping bags after 2.5ish hours rest when the cabins are very cold and the extra warm kit makes the initial getting ready phase all the more cumbersome. Not to mention the difficulty of getting to the heads (loos) before getting dressed. We've been getting plenty of practice at tacking and will soon be refreshing our coming alongside/mooring skills ["oh joy" says the Skipper]. Looking forward to seeing all you Leg 2ers in Kangaamiut soon.
Regards, Blue Watch (Anne, Peter, Allan, Neil)
---
Ready Steady Cook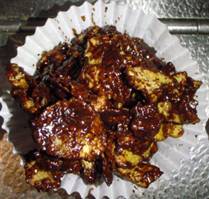 Red Watch has been on "Mother" for the last 24 hrs, and this time we were given some additional duties. Firstly we had to take all of the remaining provisions out of the cupboards and produce an inventory of what we've got left to live on for the next week. Having done so, we had to produce a menu, which of course at this stage doesn't include any fresh rations; the result being a reasonably varied and inventive selection of dishes, which Café Rouge will be quite happy to serve.
One of the surpluses identified during the audit was the European Cornflake Mountain – all 26 kgs of it (ok maybe 12 kg), certainly enough to feed the Greenlanders for a week. We made Ready Steady Cook look like a walk in the park with the range of random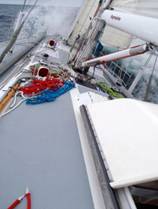 ingredients on the table including 8 kg of porridge oats, 2 kg of onions and 3 pepperami sticks. Andy and Byrne proceeded to dispense with a small proportion of the cornflakes by making some very nice chocolate covered cornflake cakes (below). If any of our blog readers have any other suggestions of how to use up the supply of cornflakes, please email us at the usual address.
At breakfast this morning we were expected to use some of the Pasteurized Whole Hen Egg Powder – AKA Handy Egg or more commonly referred to as powdered egg. Somehow Linda managed to make something which both looked and tasted like scrambled eggs, cunningly disguised by the addition of some bacon grill, to the point that most of the "equivalent of 20 eggs" used actually got eaten.
This morning the fridge automatically opened during a tack and we released half the Atlantic Ocean onto the floor of the saloon as it had defrosted due to some minor electrical problems experienced yesterday. Linda was overjoyed at the prospect of having yet another item to clean especially as she was holding up the shower queue at the time.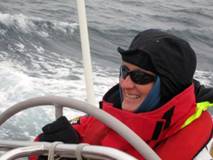 We are back on Watch again and enjoying the sailing.
We saw the sun fleetingly this morning – first time since the inter-watch games a week ago. Below, the watch (Andy was taking the shot) and Linda enjoying the sailing and sporting sunglasses. We are making steady progress towards Manîtsoq our destination where we hope to arrive later tonight to refuel and clear Greenland Customs – that is unless our fellow Watches sail in circles as White Watch did again last night.
Yours Red Watch (Andy, Byrne, Greg and Linda)
---
RED WATCH - BYRNE
Our colonial officer is a great member of the crew. Always positive and cooperative, it is a real pleasure sailing with him. He has specialist skills that are put to great use by me - we can even talk geeky stuff without others understanding (until Byrne loses me that is ...)!
He has produced some great blogs, some top photos and videos and is always to be found helping others. Anything computer oriented is a doddle. His sailing has improved tremendously and he clearly enjoys his time on the helm (if he can shake Linda off). He understands what he is trying to achieve and on the odd occasion where he is not sure he is happy to ask intelligent questions. A good trait for a practical sailor.
I have thoroughly enjoyed having Byrne around and would gladly sail with him again. In fact he should book himself on some courses and get some more experience.
Richard
---
Postion as at 13 Aug 08 0600hrs (65:24.74N 52:54.03W Greenland)
Speed - 00 km/h
Course - 00°