Exercise Midnight Sun - Greenland 2008
Friday 29th Aug 08
It's been a fun couple of days, as we finally received weather that was worse than any of our training trips. Our route is apparently on the border between a low and a high pressure system, which is sending us winds from the west, which is nice, but sometimes we are a little too blessed. Yesterday, Ginger watch went forward to reduce sail, and took in the first reef. With waves breaking over the foredeck, it was sporty on the windward side, but downright emotional on the lee side, where Mike and Tom were putting reefing bungees around the sail. However you soon reach the point where you are soaking wet, start laughing and the fear of the foredeck soon dissolves. I think that the sight of my life-jacket inflating itself as I tidied the ropes may have helped with the giggles!
The strong winds (up to 35 knots) helped the speed, like a bird on the wing, over the seas back to home. The best speed seen, if just for a moment as we surfed down a wave, was 19.3 knots, which is about two and a half times faster than our usual speed!
This mornings watch (0800 to 1200) was more relaxed as the waves calmed and the winds have now blown through, and we are actually motor-sailing in the light winds and gentle swell.
A few other random thoughts that have occurred to me, normally on the first watch, between midnight & 4 A.M..

The amazing difference perspective makes. When I first saw "Adventure" back in January on the selection weekend, I thought she was a very large yacht, and far too complicated for me to learn enough to be of any use on board. Now after almost crossing the Atlantic, she doesn't feel so big, and all the odd drills and routines make perfect sense in context.

The sense of awe, at ancient mariners who went to sea without the electronic gadgets that we have and the modern fabrics we have to keep us warm and dry. Everything on deck is manually powered, but we can get the latest weather reports, to plan routes on our electronic charts, and send and receive emails (which always bring a smile to your face, when you are told you have mail). Water to a mariner is like gold, we have a water maker, which desalinates the sea water and provides almost unlimited drinking water; though we keep enough stored in the tanks that we could probably manage a short cruise like this with sensible rationing.

Andy – Ginger Watch
---
High Seas and High Morale
What an eventful last 48 hours the crew of Adventure have had. They really have seen both ends of the spectrum when it comes to the weather and what a Challenge 67 yacht can handle. They have also seen the after effects.

During a lull in battle two days ago, when the winds were slight and the sea had mellowed, our illustrious leader decided it was time to brave the elements and fix the tricolour, which is at the top of the 80 foot mast! Once Windy was firmly in his harness and two halyards had been attached (working and a safety), he began his ascent, trusting his crew to take in on the halyards to hold him should he slip and fall! Now the sea may have seemed fairly flat to those of us on the deck however the angle of incidence 80 foot skywards is quite large, and our skipper is currently walking a bit like John Wayne after losing his grip a couple of times and getting cosy with the mast! But like the true professional that he is, the tricolour was fixed in no time and Windy was soon safely lowered back to the deck.
Our Australian friend on board, "Mr Hovis" or Oz as he prefers to be known never ceases to amaze us and we were treated with hot scones and jam! Not only is he an excellent hand to have on deck, he is pretty nifty in the kitchen; we are now just waiting to see what scrumptious bake he surprises us with next!
The calm seas were not to last however, and as Red Watch were on deck at 0400 hours, the wind began to pick up, and was soon a steady 25 knots south westerly, and before we knew it we were on the foredeck putting in the first reef. There were smiles all round as the conditions became a bit "sporty" and our oilies were finally being out to the test! After about 6 hours the wind had risen to 35 knots and things were really livening up! Once again it was time to make our way up to the foredeck, now slightly more hair raising with the deck awash with breaking waves (definitely time to clip on!) and put in the third reef. Red watch have really bonded as a team and this task went smoothly without waking the whole boat up!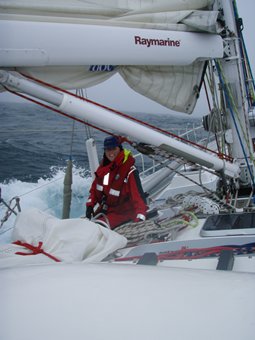 The strong winds lasted for about 24 hours as a low pressure system moved through, and it was good to see people enjoying the testing conditions, and it was also good to see some people being placed outside their comfort zone. However, even in these arduous conditions, Adventure's fine pedigree and history of circumnavigating the world three times, one could not ask for a safer boat to be in when the going gets tough, she really does hold her own. The constant noise of waves crashing into the cockpit, followed by cheers and giggles as each watch is competing to catch the biggest surf and gain the highest speed record; Daz now holds the record with 19.2 knots over the ground! The last 24 hours has been excellent for our progress and we completed a monster 220 miles, when the normal for an average day is 160-180 miles.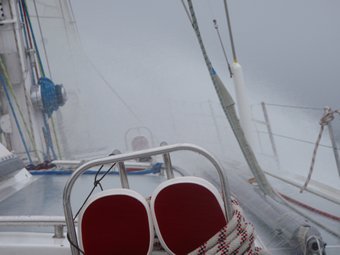 The low pressure system has now passed through and the wind has dropped to around 10 knots, and sea has now eased to a gentle swell, life on board Adventure has become more comfortable once again. This has enabled us to get stuck into "housework" that needs to be done, including a good dry out of the bilges, a complete stock check of the food, getting kit dried and also some yacht and sail repairs.
For those of you reading, the boat and the crew are well, and this is where all the time they gave up for the training weekends really pays off.

Emma "Helm Honey" - Red "Bay" Watch
---
"The true mystery of the world is the visible, not the invisible" – Oscar Wilde
This has been much more for me than a sailing adventure. It began with the thoughtfully arranged and careful selection process which began in November last year and involved numerous training weekends and a culmination week for each leg when crews were able to get to know each other better and to discover whether they were ready for the expedition.
In January, I completed the 5-day Medical First Aid at Sea and Medical Care at Sea at JSASTC to become the third member of Leg 2, with Windy and Daz, trained to deal with emergencies.
On 2nd July, I was delighted to be invited to meet Adrian and Louise Flanagan. Adrian had just completed a north – south single-handed circumnavigation. His book will be available shortly. During supper, amongst many other very useful tips, I learned that an essential item for cold water sailing is a hot water bottle. To the consternation of my wife, I packed one in my bag and what a wonderful friend it has become to my chilly feet.
Finally, on Wednesday 14th August, the different strands of Leg 2 of the expedition: climbers, kayakers and sailors met for the first time at the Windsor TA Centre and spent a very jolly night, sleeping on the drill hall floor.
I was pleased that we were able to spend an evening in Copenhagen on our way to Greenland. I had last visited on a school trip when I was 12 years old. Indicative of Danish tolerance, two of the squares contained very loudly amplified Peruvian folk groups. After dark the Tivoli Gardens became a lively fairytale and in another square a large and colourful gay pride festival in full swing.
The pilot on the leg from Copenhagen to Greenland told us that, unusually, we would be flying a more southerly route than usual because of the jet stream. This turned out to be over the Faeroe Islands which were free of cloud and enjoying a rare day's sunshine. A treat for those who collect aircraft augenblicken. The starkness, cragginess and scattering of single houses on isolated creeks made the islands to look much more inhospitable and remote than Greenland.
We had a fine one-and-a-half-hour fast boat transfer from Maniitsoq to Kangaamiut. It was a great privilege to be driven by a local boatman, in his own craft, who judging by his spirited driving technique and speed was not yet suffering either a global warming conscience or any concerns about fuel costs.
In Kangaamiut we were all accommodated for two nights on the floor of the village sports hall. It was modern, warm and very well equipped for gymnastics and a large number of indoor ball games. Unlike Windsor there were plenty of mats to insulate us from the floor. Inevitably, the local children seemed to derive more pleasure from demonstrating how fast they could swarm up the corrugated sides of the building and over the roof than operating the equipment inside.
We spent a memorable evening crammed into an upstairs meeting room in Kangaamiut with our singing led by the Master of Signals, General Sam Cowan, singing an Irish folksong, Brigadier David Hargreaves singing Gilbert and Sullivan. Songs from other expedition groups and the locals of all ages, men, women and children including those who had hunted for our supper of whale, musk ox and reindeer singing some beautiful songs. I don't know how often the locals get together to sing these days, but a number of them were moved to tears.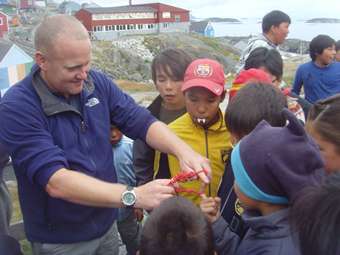 The sailing has included beating, running and reaching in all conditions of temperature and precipitation and with winds up to Force 8. It has been well reported in the daily blogs, so it just remains to offer very special thanks to Richard and Mark for planning and preparation, Windy and Daz for tirelessly tutoring me in the ways of yacht Adventure, to the Kev, Emma, Greg, Josh, Oz, Lou, Stu, Andy, Mike and Tom for their hard work, enthusiasm and tolerance.
Paul – First Mate, Adventure
---
Position as at 30 Aug 08 04.15 hrs
52°25'47"N 16°48'19"W
Speed 15km/h Bearing 119°